Well hello there, nice to write to you again. I am coming at you with a mammoth update post. These last couple of months have flown by and blogging just hasn't been a priority. I did promise more effort on the blogging front on twitter, so here I am.
Recently I have found a new hobby, been away to Prague, had a family bereavement, been more Harry Potter obsessed than ever and just generally living the good life!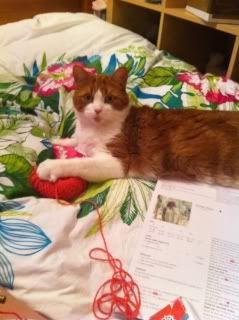 I have started to knit, my now friend Vickie started a
Stitch & Bitch
group, which gave me every incentive to learn something i've always wanted to. I started with a scarf and am now knitting a tank top! We are Stitch Solihull on Facebook and Ravelry, if you are in the area we meet every Thursday 6-8pm at Starbucks in Touchwood. You'll find us at the big table upstairs!
Lately I have been constantly listening to the Harry Potter audiobooks, watching the films and frantically trying to become
MAGICAL!
I got in on Day 2 and now anxiously await my Pottermore welcome email. For all you
magical
people like me, I am ScarletRiver## (I read people are trying to hack usernames, so don't reveal your number!)
Weeks like this have been the norm for me the last couple of months, on top of a full time job, i've just had no time to stop and think. Which leads to me making lists like this...
My flat has been so neglected that I spent 5 hours last monday after work completing this list one by one. I literally have never worked so hard, thankfully I had Harry Potter and the Philosopher's Stone audiobook to get me through it! :-)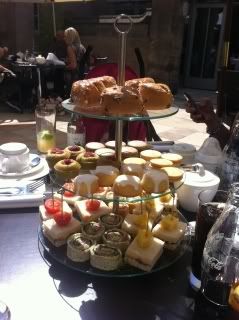 Last weekend I went for afternoon tea with Edd Kimber,
The Boy Who Bakes
. He is at
Hampton Manor
for the month of August and I have to say it was fabulous! Five friends chatting over these 3 tiers of yummy goodness and pots of tea = perfect afternoon! I have now pre-ordered his cookbook with amazon, hoping to recreate his amazing pistachio and rasperry cakes!

My friend Emily's family have just got a new kitten, called Percy. I went to visit him at 6 weeks old, he's actually the most adorable thing i've ever seen. So tiny and cute, I now want a Percy of my own. Not sure Elvis would agree!
For my Dad's birthday we went to Tom Kerridge's
The Hand & Flowers
restaurant in Marlow. Obviously we had to try his Great British Menu winning dish. The pigs head nugget things were to die for and I had the best dessert i've ever had in my life. If you ever go, you must have the 'Strawberries and Cream' dessert. It was all amazing and definitely worth a visit.
In Other News:
♥ My Nan died on 21st June and despite everthing, it showed me how amazing my friends really are. I am very thankful for each and every one of them.
♥ Organising a hen weeked abroad for 8 people is a lot of hard work and stress but worth it all in the end. We had such an awesome time in Prague, pictures to come!
♥ I had my final fitting for my Bridesmaid dress, its lurrvveeelllyyyyy!! So excited for the big day now. Judging by the last few months, the 3rd September will be here before we know it.
♥ My Mom and I are planning a trip to Orlando in January. You know what this means!!!
The Wizarding World of Harry Potter
!! I'm not excited AT ALL about this, YEAH RIGHT!!! I'm sooooo freaking excited I can't shut up about it!!
Finally, i've always known how incredible my Mom is, but this has become an insufficient word to describe her. She's the single most important person in my life and I love her more than anything.
@Jilldy26
You're simply the best!
XOXO